The truth about the Canton school board's indefensible decision to fire McKinley football coach Marcus Wattley and his staff over false accusations that they forced a player to eat pork against his religion
"A lie can travel halfway around the world while the truth is still putting on its shoes."
We at the Pattakos Law Firm have a new appreciation for this phrase thanks to our experience representing Canton McKinley football coaches Marcus Wattley, Frank McLeod, and other members of their staff who were fired last week based on false, malicious, and barely investigated accusations that on May 24 they forced a 17-year-old player to eat pork, against his religion, to discipline him for having missed a voluntary workout four days earlier.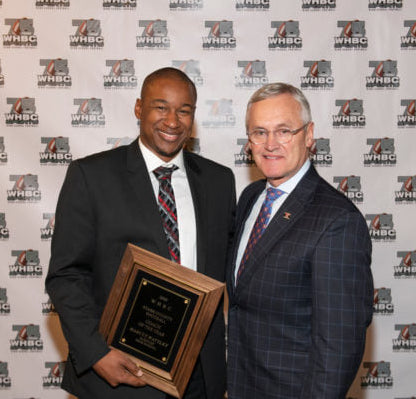 Wattley and his staff were blindsided by these false accusations, which immediately made national news, including in a June 2 New York Times report that ran under the headline, "High School Football Coaches Suspended After Teen Is Forced to Eat Pork, Lawyer Says." This report and others stated that the Canton police department was investigating the matter, and repeated accusations from the teen's attorney, Ed Gilbert, that "the coach[es] knew of the teen's Hebrew Israelite beliefs" and forced him to eat a pepperoni pizza "to punish him" and "[dis]respect [his] religious beliefs."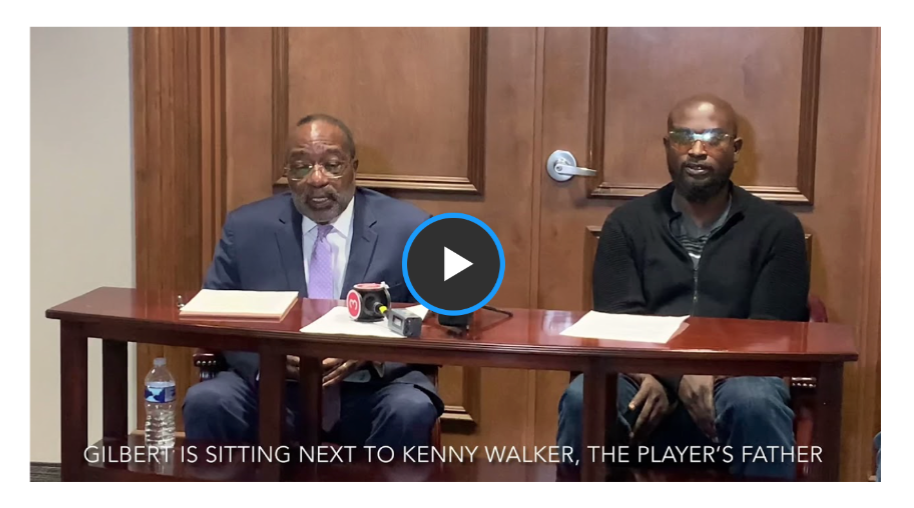 These reports also printed statements from Canton City School District superintendent Jeff Talbert endorsing the attorney's false accusations, stating that the district had conducted an "investigation" and found that the coaches "engaged in … inappropriate, demeaning, and divisive behavior" warranting their suspension.
Coach Wattley retained our law firm the next day, June 3, the same day the Canton school board held a special meeting to consider terminating him and his staff over the alleged incident. In our first conversation with Wattley, he explained to us, as we shortly confirmed, that he and his staff did not force this student to eat or do anything, let alone to eat pork against his religion.
The truth is that these coaches were concerned that this young man—a rising senior and one of only four players on the team with pending offers to play college football for a Division I program—was putting his football career and future at risk with his off-field conduct, including marijuana use that weeks earlier had caused the student's father to report and suspend him from participating in team activities for a week. By May 24, it was clear to the coaches that the father's message had not gotten through to his son, who continued to show up to team workouts apparently under the influence, displaying continued disrespect to his teammates and coaches with his words and actions, and not only failing to show the type of leadership expected from a senior with his talent, but also failing to meet the minimum standards of conduct expected from any Canton McKinley football player.
At this point, these coaches knew that traditional coaching methods had failed to reach this young man, and if he continued down this path, he would not be welcome in their locker room once football season resumed. Further, as confirmed by his own text messages to Wattley and the other coaches, this player knew he'd let the team down with his recent conduct and wanted to demonstrate his accountability to his teammates when he returned to the voluntary workouts.
It was in this context that the coaches asked the player to sit in the center of the Canton McKinley gymnasium to have a meal and a drink while his teammates circled the gym carrying 45-pound plates from the weight room. Wattley asked him if he was hungry, and when he said yes, Wattley brought in a pepperoni pizza. When the young man complained that he didn't eat pork—something that had never been communicated to any of the coaches, nor apparently to any district officials, prior to that moment—Wattley told him he would get him chicken nuggets instead, at which point the player said he would rather just eat the pizza.
The point was to teach him what it felt like to be the only man eating and relaxing in a room full of hungry working men, and the lesson was clear to all in the room, as Wattley said to the team that day in the gym and also told district officials when they first asked him about the incident: "It's easy to be selfish behind peoples' backs, but not so easy when others are watching." Wattley had also repeatedly made clear to the young man that he was free to leave the gym at any time if he did not want to participate in the lesson, as was also reported to district officials in their investigation.
The alleged victim instead chose to receive the lesson from his coaches, and hugged the coaches at the end of the session, thanking them for "not giving up on him," and telling them, "I needed that." The next morning, this young man was one of the first players to appear at the team's voluntary workout, where he apologized to his teammates for his prior conduct, and demonstrated a renewed sense of commitment and positive attitude that was apparent to his coaches and peers. It was during this workout that Wattley received a call from athletic director Antonio Hall notifying him of the accusations leveled by the player's attorney. And that afternoon, while Wattley was out to lunch with his fellow suspended coaches, the player called Coach Tyler Thatcher, who placed him on speaker phone as he apologized to the coaches, and told them that he understood the purpose of their actions at the previous day's workout, that he never expected or wanted them to be disciplined over the matter, and that he would speak to district officials to "straighten this out."
After Wattley explained the above to us in clear and convincing detail on the afternoon of June 3, we immediately placed a phone call to the school district's attorney, Kathy Perrico of the Walter Haverfield law firm, informing her that the accusations against Wattley were false, and asking the district to postpone taking any action on this issue for at least one week so that the board could fully consider the evidence showing what really happened. Thirty minutes later, Perrico called us back to tell us that the board would not postpone its decision, and would proceed as planned at that evening's board meeting despite our warnings that it would be a disaster for the district to act on such explosive and facially implausible accusations based on such an obviously rushed, flawed, and incomplete investigation.
We then immediately went to Canton to attend the school board meeting, still hoping to convince the district to conduct a thorough investigation before acting. When we arrived, announcing that we represented Coach Wattley and that we intended to rebut the false accusations against him and his fellow coaches, we were surrounded by members of the community who wished to do the same. This included half a dozen members of the football team who were in the gym during the alleged incident and were eager to confirm what Coach Wattley told us about it—including that the alleged victim understood the purpose of the lesson as well as the need for it, agreed to participate in it, was offered chicken instead of pepperoni pizza to eat, was free to leave at any point, and apologized to his coaches and teammates afterwards, promising them that he had learned his lesson, and showing up early to the next morning's session with a positive attitude confirming the same.
These young men and others close to the program—including documentarian Rashaud Polk, a Canton McKinley alumnus who has followed the team with his video camera since 2019, when Wattley was hired as the first black head coach in the legendary program's history—also emphasized the coaching staff's extraordinary commitment to the personal well-being of their students. All the players who were present at the board meeting, including rising sophomores who have not yet played a minute in a varsity game, were eager to explain that Wattley, McLeod, and other members of the staff were like fathers to them, who communicated with them every day to check on them and always did whatever they could to make sure they were eating, attending class, completing their schoolwork, and were otherwise safe and healthy. These young men also confirmed how concerning it is to the team when a player doesn't respond to text messages from coaches or teammates, as four of the team's players have suffered gunshot wounds in the last year alone.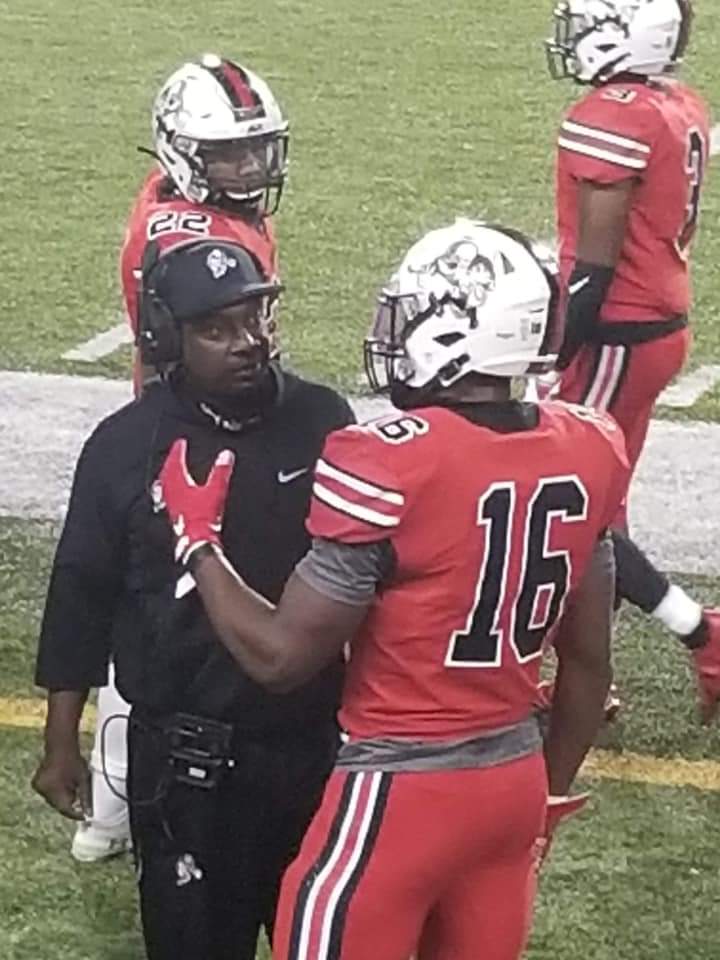 Despite that these young men stated all of the above and more in the presence of numerous TV cameras, news reporters, and district officials at the June 3 meeting, the superintendent and board members refused to consider what they had to say and refused to consider any additional information or public comment on this issue despite our continued requests that they do so. Instead, the Canton school board members Kim Brown, David Kaminski, Eric Resnick, J.R. Rinaldi, and Scott Russ unanimously approved Talbert's proposed resolution to terminate Wattley, McLeod, and five other members of their coaching staff—Zachary Sweat, Romero Harris, Cade Brody, Tyler Thatcher, and Josh Grimsley, on grounds that they engaged in "conduct unbecoming of their profession."
The following Monday, June 7, we attended hearings at the district offices to present evidence showing that Wattley and McLeod should not also be terminated from their administrative positions in connection with the events of May 24. Because these administrative jobs—unlike the coaching positions—pertain to employment contracts with fixed terms, the U.S. constitution prohibits the district from terminating those contracts without providing due process to Wattley and McLeod, including to allow them a fair chance to confront the district's evidence against them, and to present evidence of their own.
We therefore began these hearings by insisting on a full account of the district's evidence. In response, the district's attorney, Perrico, would only identify the surveillance video of the incident, which contained no audio. Thus, the hearing confirmed what remains true to date: that apart from its own draft resolution containing its unsupported conclusions and wild interpretations about what the surveillance video showed—which have been unequivocally denied by every witness who has gone on record about the incident, and fully consistent with Wattley's account set forth above—there is no additional evidence, or even a single witness who will publicly support the district's decision to terminate these coaches.
Wattley and McLeod then proceeded to explain again to the district officials, including Talbert and Deputy Superintendent Mallory Floyd, what really happened on May 24, leaving no legitimate doubt that their actions of that date were entirely appropriate and fully within the discretion of a high-school football coach in the state of Ohio, taken out of obvious concern for and commitment to the alleged victim's well-being. Wattley also explained that it would have been easy enough for the coaches to ignore this young man's problems, or to otherwise give up on him, but that he was trying to follow the example set by his own high-school coach, the legendary Dan Boarman, who refused to turn his back on Wattley when it would have been easy to, and who otherwise served as a father figure and key role model for Wattley, whose own father passed away when he was two-years old.
The district nevertheless refused, at the June 7 hearing, to hear the testimony of four Canton McKinley players—Mani Powell, Timothy Gatlin, Shawn Pirolozzi, and Alex Vazquez—who wanted to go on record to affirm the coaches' account of events and their extraordinary commitment to their players' well-being, and request that the district re-hire them.
Thus, after the hearing concluded, these young men went on camera with Brian Duffy of WOIO Channel 19 News and Kelli Weir of the Canton Repository to do the same.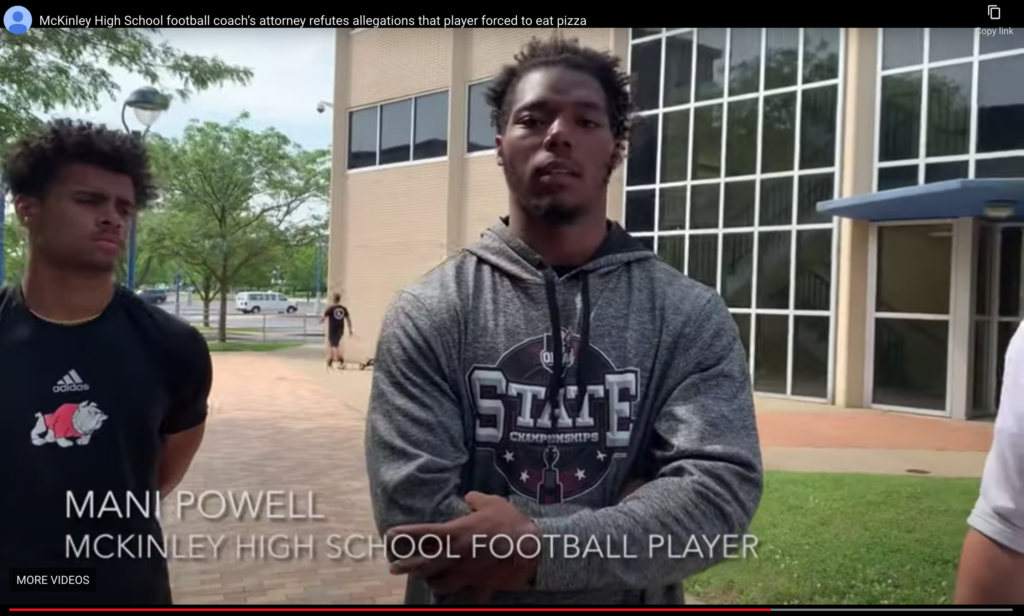 After endorsing the coaches' account of the events of May 24, Powell stated,
"Now that the truth is out I just ask that our coaches come back to Canton McKinley. It won't be the same without them and we won't stop fighting until we get them back. They're more than coaches, these men … lose sleep over me, they're more than coaches, they're father figures to me."
Vazquez added,
"Every day to and from practice they load their cars with kids they use their own money on food for us. They really do love us. That's what it is."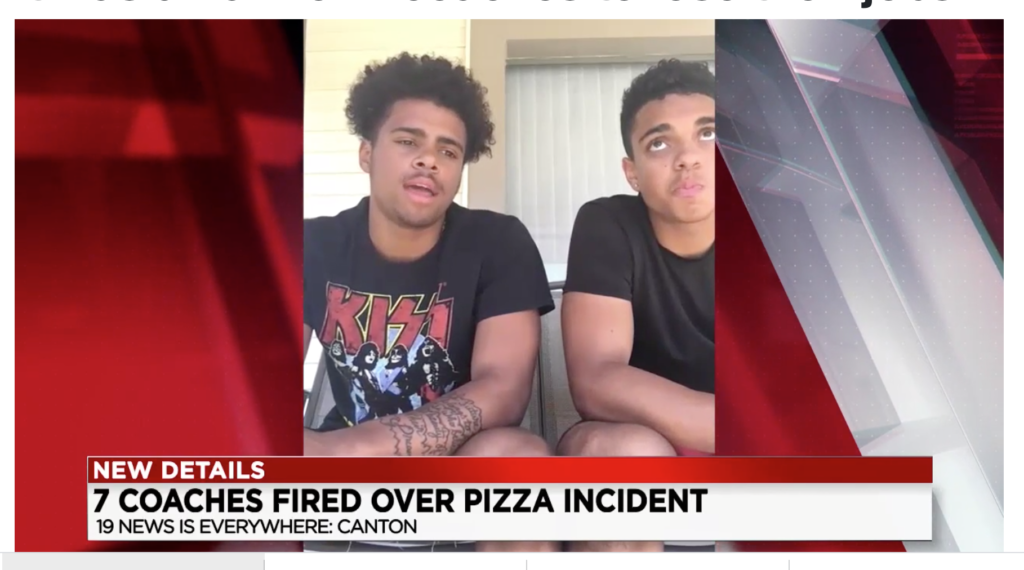 And on the same day, Gatlin and Pirolozzi told Channel 19's Michelle Nicks that,
"[The alleged victim] wasn't forced to eat anything. They told him to eat the pizza and when he said that he couldn't eat pork the coach was like okay. The coach sent another coach off to get chicken nuggets. And then that's when the player started picking off the pepperoni and eating it himself. So, it was his choice to eat the pizza. … [And ]he could have got up at any time."
Gatlin and Pirolozzi also confirmed that the message to this player and his teammates was clear:
"It was more like you're being selfish. You think you're better than the team, and we're all one."
By this point, we had also spoken with sophomore Kaelub Edwards, whose account was similarly consistent with that of his teammates and coaches, as was that of another team member, a senior who asked that his name not be identified in news reports about this issue, and added that he, in contrast with the alleged victim, had filled out paperwork to notify the district that his Muslim faith prohibited him from eating pork.
So we continued to insist, including at a press conference the following day, June 8—where Wattley confirmed that he has never been subject to any discipline in his 19 years as a football coach at the high school and NCAA Division I levels—that the district admit the mistake that it made in firing these coaches, and allow them to return to their jobs for the benefit of their players and the Canton McKinley community.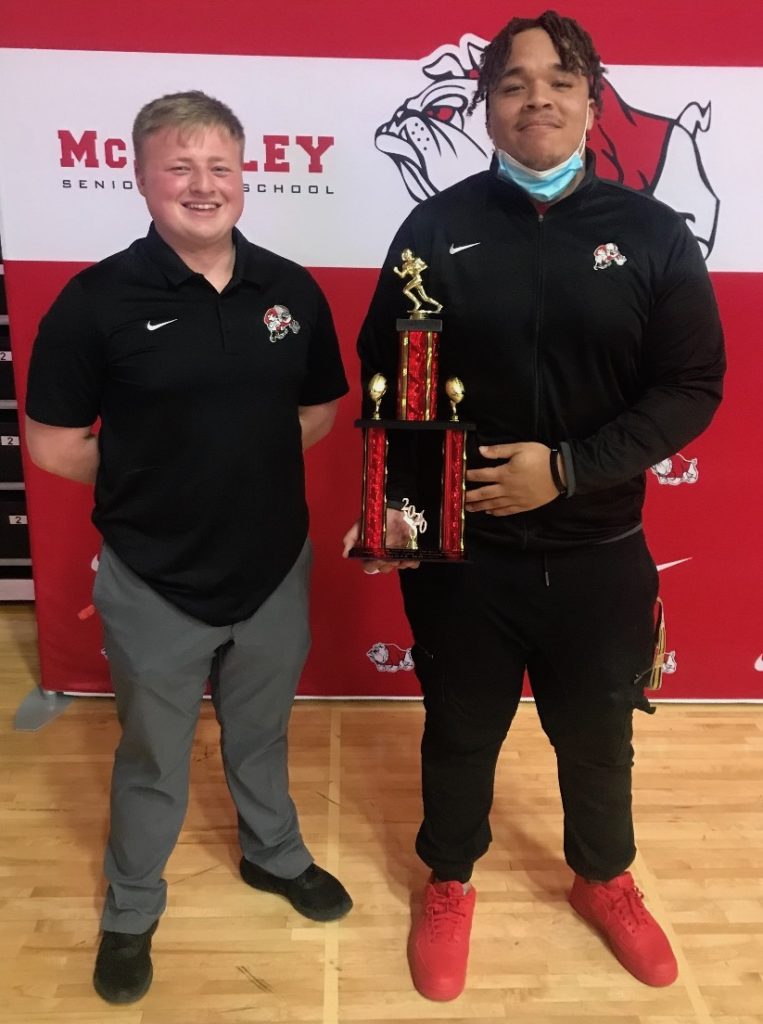 Unfortunately, the district has to date refused to acknowledge the truth or admit its mistake in firing these coaches, and has continued to dig in its heels, including by way of an absurd statement issued by Superintendent Talbert to the media late on June 9 that was apparently intended to further mislead the public.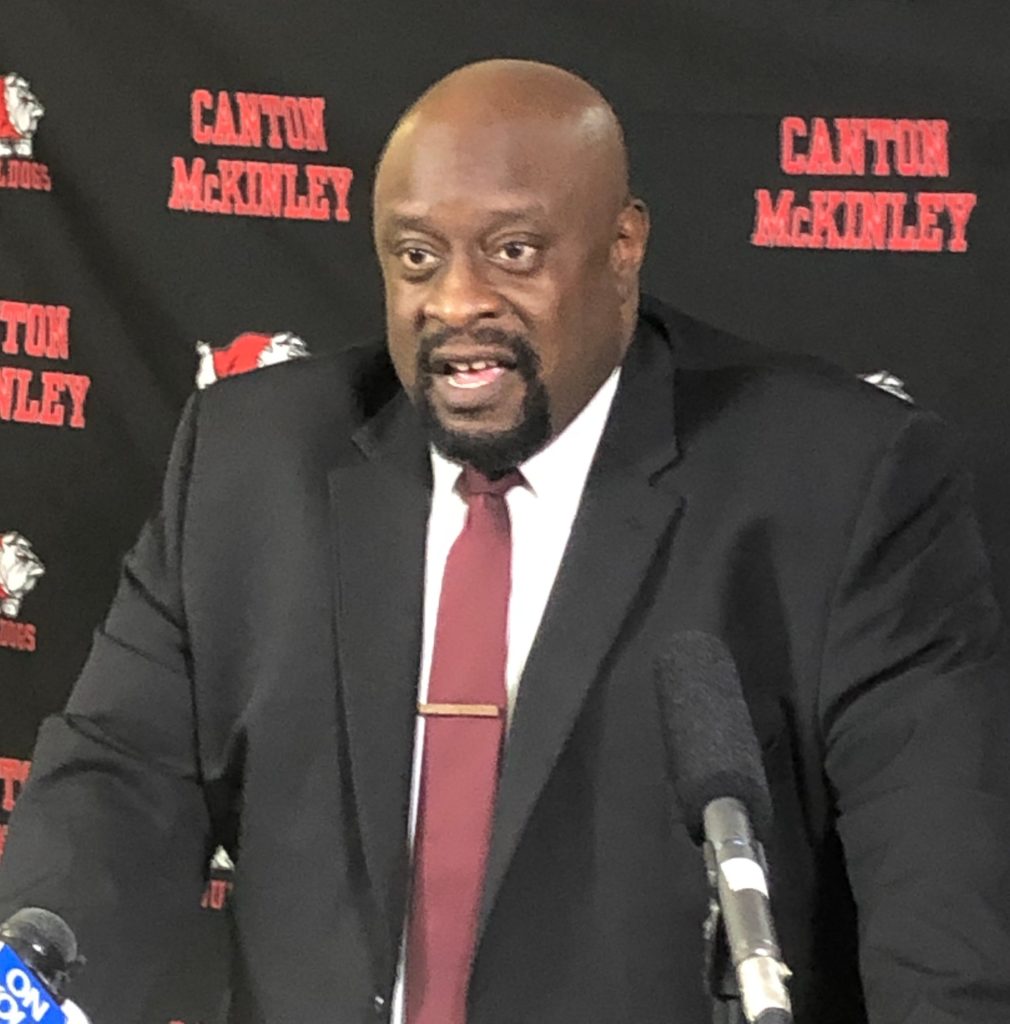 In this statement, Talbert purported to respond to our efforts over the previous days to communicate the truth about this matter to the public by accusing us of "purposely" providing "false and inaccurate information" about this matter, and making "false accusations" against district leadership. Yet Talbert did not and still has not identified a single piece of information presented by the terminated coaches that was false or inaccurate. Nor did he identify a single new piece of information or evidence to support the district's baseless endorsement of the accusations against Wattley and his staff.
Instead, Talbert only repeated the district's unsupported conclusions about the events of May 24, and further misled the public by suggesting that those conclusions were verified by the testimony of "a number of students" whom the district interviewed. The truth, as was immediately confirmed by Ms. Weir in the Repository that evening, is that the "number of students" the district interviewed before deciding to terminate Wattley and his staff was three, and two of those students—seniors Tay'Shaun Bandy and David Smith, immediately went on record with Weir to confirm that they "told district officials "that their teammate never was forced to eat anything and that Wattley told the player he could leave," and that "they want their coaches back, likening them to father figures."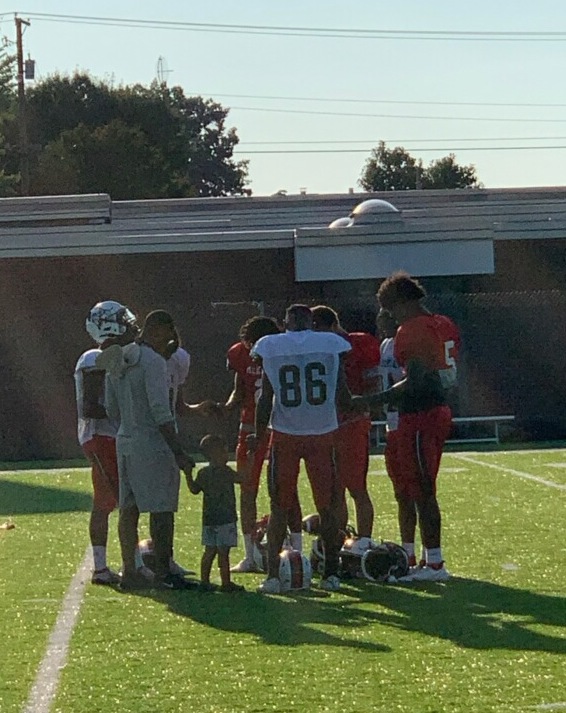 Finally, even further affirming the lack of merit to the district's rushed decision to terminate these coaches, we learned yesterday from the Canton Police Department that neither alleged victim, his father, nor his mother wish to press charges against these coaches, and do not wish to participate in the police investigation. According to the police, they are only conducting this investigation because the district reported the matter to them as a crime. And according to the district's own statements, they never interviewed the alleged victim or his family either before hurrying to terminate Wattley and his staff.
In summary, contrary to all of the evidence set forth above—as confirmed by phone records, surveillance footage, and the statements of every single one of the eight Canton McKinley players who have gone on record to discuss this incident—the district terminated these coaches based on nothing but its own misinterpretation of the silent surveillance video, that itself was contradicted by the testimony of all three player/witnesses whom the district interviewed about the incident.
It is therefore clear that the only "inappropriate, divisive, and demeaning conduct" that is really at issue here has resulted from the unfortunate confluence of (1) a decision by a single assistant coach who participated in the training session—who interviewed for the head coaching position in 2019 when it was awarded to Wattley, and who was the only member of Wattley's staff who would not be returning for the 2021 season—to then misrepresent the events of May 24 to certain parties after the fact; (2) only to have those misrepresentations manipulated and recklessly exaggerated into an outlandish and defamatory story about forcing a teenager to eat pork against his religion, by an attorney, Ed Gilbert, who put his own interests in making a quick buck over the truth and his clients' well-being; by seeking to exploit (3) click-driven media outlets that are too quick to inflame salacious allegations of racial or religious prejudice without regard for the facts; all of which was further intentionally and recklessly misrepresented by (4) Canton school district officials who apparently saw this as an opportunity to vindicate their own narrow and short-sighted personal preferences at the community's expense by installing a fellow Canton native and personal friend, Antonio Hall, as head coach, whom the district could not have legitimately hired over Wattley—due to Wattley's plainly superior qualifications—when Hall had also applied for the job in 2019.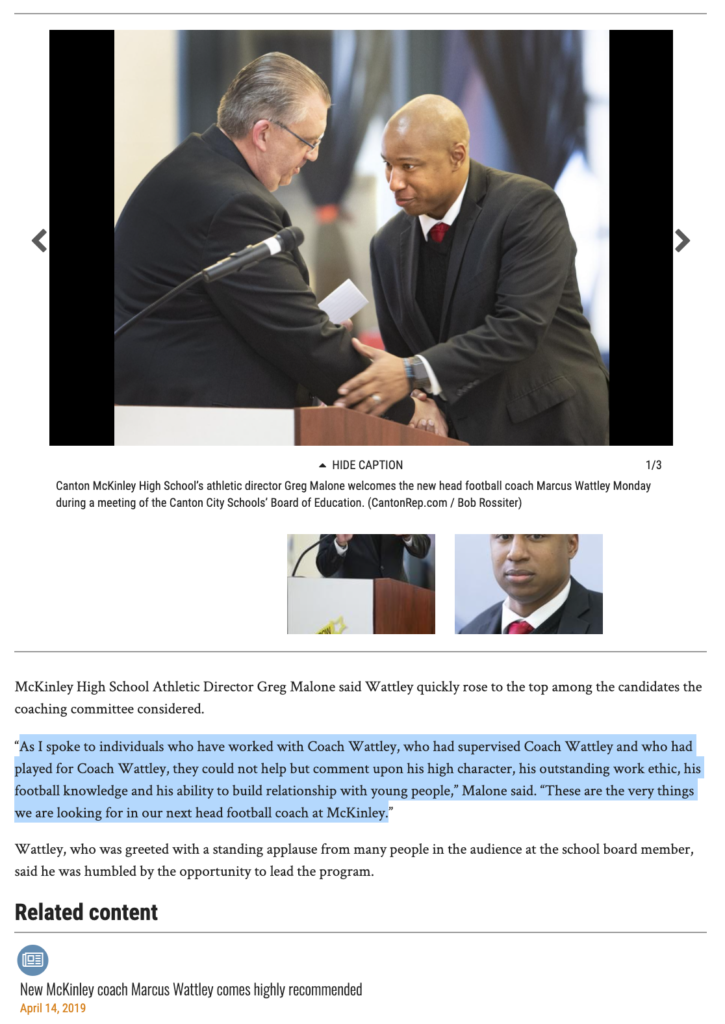 For these reasons, Coaches Wattley, McLeod, Sweat, Harris, Brody, and Thatcher join their players' demand that they be reinstated as Canton McKinley football coaches. The young men in that locker room deserve nothing less, as does the entire Canton McKinley community, and all members of the public who have been misled about this issue. At worst, the board would be demonstrating leadership in admitting a mistake, acknowledging that these coaches at very least deserve a second chance, and embracing the reality that the greatest mistakes often offer the greatest opportunities for healing, learning, and success.
It is in this spirit that we invite all members of the public to join us in sharing the truth about this matter, demanding better from the Canton school board, and insisting that justice be done for the young men in the McKinley locker room as well as these wrongly maligned coaches, who have effectively been punished for being too good at their jobs, and for their extraordinary and extremely admirable commitment to the well-being of their players.
UPDATE: Photos revealed of alleged victim participating in 2019 (pork) rib-eating contest – (Canton Repository)
UPDATE: Canton McKinley senior team captain Mani Powell: "It's clear that our coaches didn't do anything wrong. Can we have them back already?"
UPDATE: Sign our petition to support the reinstatement of Marcus Wattley and his staff as Canton McKinley's football coaches.
To discuss this matter further or to otherwise share information about this case, please feel free to contact us at 330.836.8533, or peter@pattakoslaw.com.