Evidence reveals Cuyahoga County Prosecutor Michael O'Malley's campaign to mislead voters with false accusations about uncharged juvenile cases
One month into Michael O'Malley's tenure as the newly elected Cuyahoga County Prosecutor, his administration sought press coverage of a manufactured scandal over the alleged mishandling of juvenile sexual-assault cases by the previous administration led by Timothy McGinty.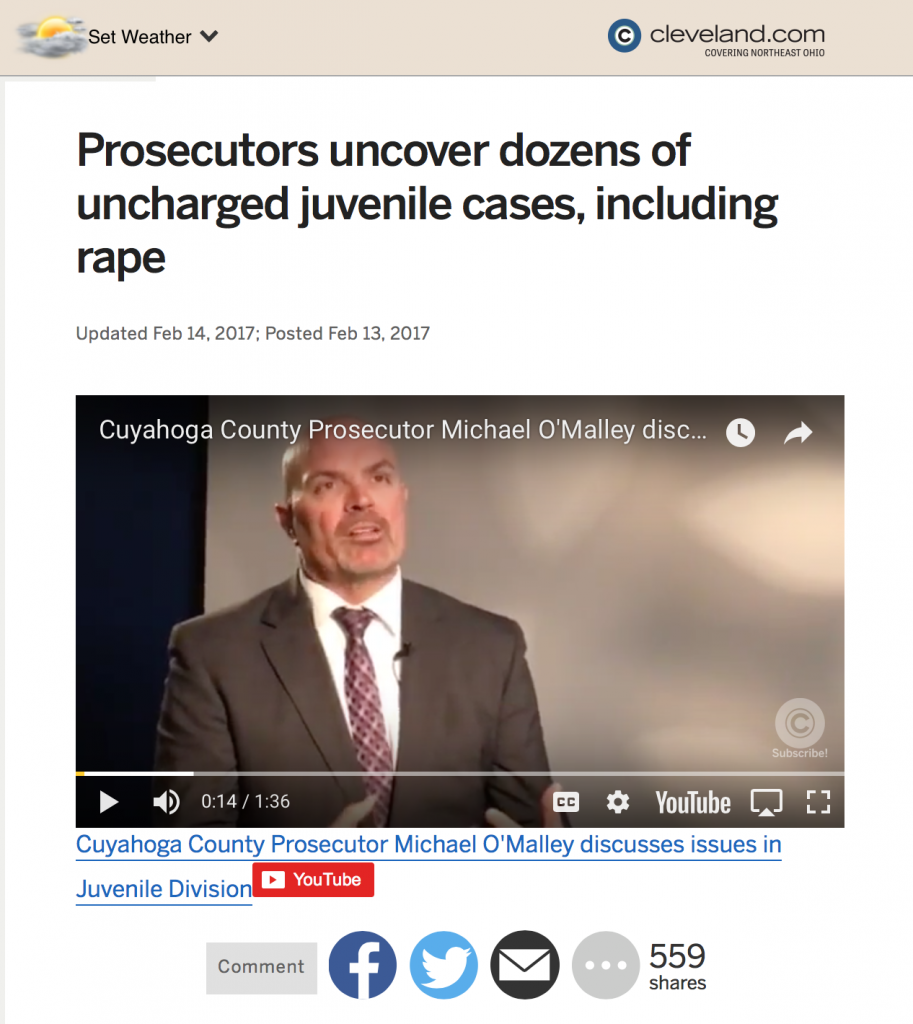 The experienced reporters and publishers from whom O'Malley sought coverage of this "story"—including The Plain Dealer's Rachel Dissell, and Cleveland.com publisher Chris Quinn—immediately recognized it for what it was: a misrepresentation of reasonable differences between administrations regarding how to allocate limited resources and classify cases, and, essentially, a hit-piece intended to diminish O'Malley's political opponents in the previous administration. These political opponents included, most notably, Duane Deskins, who was First Assistant Prosecutor and head of the office's juvenile unit under McGinty. O'Malley knew that he would not have been elected Prosecutor were it not for the substantial support of the county's black community, who had turned against McGinty due to his handling of the case of Tamir Rice, a 12-year old who was needlessly shot to death by Cleveland Police. O'Malley also understood that Deskins, as one of the most accomplished black prosecutors in the county, would be an especially appealing candidate to its black voters, who represent approximately one-third of the county's population and have historically been underrepresented in the county's elected offices.
As it became clear that these reporters were not willing to write about this "story" as it was first presented to them, O'Malley's team decided to escalate their political stunt by making some heads roll, terminating three assistant prosecutors who were selected as scapegoats for the alleged scandal: Junior assistant prosecutors Laura Hoffman and Linda Herman, and senior assistant prosecutor Robin Belcher who supervised the juvenile unit's intake procedures, and had just been nominated for the county prosecutor's "Leadership and Mentoring Award" as well as the Ohio Prosecuting Attorneys Association's award for "Outstanding Assistant Prosecutor in the State of Ohio." Based on the fact that these government attorneys were terminated, reporters and editors at Cleveland.com then decided that the alleged mishandling of cases had risen to the level of newsworthy. Thus, based on substantially false information provided by the O'Malley administration, Cory Shaffer reported that Hoffman, Herman, and Belcher were terminated for having mishandled "the bulk of" 76 uncharged sex-abuse cases.
Additionally, O'Malley and members of his leadership team—Gregory Mussman, Jennifer Driscoll, and Joanna Whinery—compounded their smear of their fellow attorneys by accusing them, in statements published by Shaffer and other local and national reporters, of "incompetency, inefficiency, neglect of duty," and a "complete failure of their obligations," stating that their so-called misconduct "wasn't an accident," and conveying their responsibility for placing approximately 1,900 cases on "a do-nothing list."
Not only was it false and defamatory for the O'Malley administration to convey that any cases were "mishandled" by Hoffman and Herman, let alone that they were guilty of any misconduct that would justify termination; it was shortly revealed that Hoffman and Herman only ever worked on a total of seven of the 76 allegedly "mishandled" cases, far from "the bulk" of them. And as additional evidence further confirms, Hoffman and Herman had never received any negative feedback on their performance at the office, had in fact received effusive complements for their work, and only reasonably followed their supervisors' orders in handling the seven cases at issue. The idea that these junior prosecutors could have been responsible for any such office-wide failure as the one alleged is not only false and defamatory, it is ridiculous, as O'Malley and his deputies knew when they nevertheless proceeded to smear them in the press.
Worse, after Hoffman and Herman informed the Cleveland.com reporter, Shaffer, that they only ever worked on seven of the allegedly mishandled cases, Shaffer asked O'Malley for an explanation regarding the contrary impression that had conveyed to him. Rather than taking the opportunity to correct the record, O'Malley refused and instead doubled down on his smear, and continued to ignore the reporter's repeated requests for additional clarifying information.
These facts form only part of the basis of the lawsuit that Hoffman and Herman filed against O'Malley and his top deputies in February of 2018 in the Northern District of Ohio, asserting claims for defamation, as well as for disability discrimination (Hoffman), and age discrimination (Herman), based on evidence showing that they were targeted as expendable collateral scapegoats in O'Malley's fake scandal precisely because of their membership in protected classes.
The evidence supporting Hoffman's and Herman's claims is set forth fully in their summary-judgment briefs submitted on October 14, 2019 on their respective defamation claims (here), Hoffman's disability discrimination claim (here), and Herman's age discrimination claim (here). We encourage everyone who is interested in the truth about this matter, or the integrity of public officials and the administration of justice in Cuyahoga County more broadly, to review the summaries of evidence set forth in these three briefs, and to also explore the underlying evidentiary record, including the deposition transcripts, which are available here.
The Pattakos Law Firm and its attorneys Peter Pattakos and Rachel Hazelet are proud to represent Laura Hoffman and Linda Herman in seeking justice under Ohio and federal law, and correcting the record as to O'Malley's deplorable effort to mislead the public and manipulate voters by smearing his political opponents, including a highly qualified black candidate for the prosecutor's office in a county where black people are systemically underrepresented.